I am so in love with this noodle bowl. It is an easy ramen curry recipe that is loaded with vegetables, flavours from garlic and ginger and an array of spices. Those irresistible flavours create a delicious broth that has your vegetables and noodles nestled snugly inside of. You'll want to bookmark this recipe as you'll want to make it again and again!
*note this post is sponsored by Anima Mundi Herbals
Let's make this beautiful bowl of noodles!
Tofu
I usually pick extra firm tofu to make my meals with. Anything that has more moisture usually crumbles and falls apart (which IS perfect for a tofu scramble).
All right so now your tofu is good to go! Get your spices ready in a bowl or a ziplock bag. Toss your tofu inside and make sure they're evenly coated!
There's a few ways you can cook your tofu. You can air fry them. You can pan fry them. You can also bake them, which is what I did for this particular recipe.
Spread your tofu out evenly on a prepared baking pan and cook for 25 minutes. Make sure to brush them with soy sauce and red chili sauce before placing them into the oven. It adds a really flavour to the tofu. I end up eating so many pieces of my tofu, when cooked, before it even makes it to the bowl!
I flip them over half way to make sure they're crispy on all sides.
Should I consider a tofu press?
I bought one but it ended up being too small for the tofu size I buy usually. It broke my tofu into pieces. I could just cut the tofu and press it in batches. I just end up resorting to wrapping the tofu in paper towel and placing a heavy object on it to remove as much water from it as I can. I wait about 20-30 minutes. Preheat your oven to 350F.

Here's the press that I have for my tofu.
Vegetables
I love vegetables in a meal – the more the better! I chose red pepper, mushrooms and zucchini for this dish!
Cut your veggies the way you'd like to eat them. Get creative -strips, circles and diced are the main ways I see vegetables cut. Leave this aside as you get the sauce ingredients ready.
Vegetable substitutions
If mushrooms, red peppers and zucchini aren't your thing, you can try:
shredded carrots
purple cabbage, sliced thinly.
broccoli
spinach
bok choy
edamame
spinach
Curry Sauce
To make this beautiful delicious sauce you'll start with your shallots, garlic and ginger frying in sesame oil within a deep pan over low medium heat.
Add the rest of your spices, excluding the vegetable stock and coconut cream. Let everything mix and become aromatic. Add in your vegetables and cover and cook them until they've softened, which takes about 5 minutes.
Add your can of coconut cream into the warm mixture and let it soften, encouraging it to break up with your wooden spoon. Add in your vegetable stock afterwards and let everything come to a gentle boil. Then reduce it to a simmer immediately. Finally, add in your tofu and noodles!
There it is. Using tongs, gently move the noodles around so it's evenly coated and you'll be left with the most incredible meal!
Garnish ideas!
I have to say garnishing is just as exciting as making the actual meal! There are endless garnish ideas for a recipe like this one! Here are some you can try:
chives/spring onions – adds some greens and a little peppery taste!
wedge of lime – adds a burst of freshness
red chili flakes – a bit of heat if you like it hot!
sesame seeds – white or black they add a crunch and a beautiful flavour!
mushroom croutons – you can dice up your extra mushrooms and pan fry it for some more umami flavour
cilantro/parsley leaves – I can never have enough of these two. I love the flavours they can bring!
Why you'll love this recipe
It's EASY
This isn't an overly complicated recipe and most of the ingredients you haven your pantry!
It's HEALTHY
This dish shines with all the delicious vegetables you've got going on. You can sub the noodles for a gluten free version.
It's FASTER
This recipe can be put together faster than you waiting for take out!
It's DELICIOUS
The broth and the noodles and the crispy vegetables make this a sure winner for many meals to come! It's one of those meals that you wish you had leftovers but you polished it all off the day you made it!
It's a WORK OF ART
Even if you're not an experienced food stylist, you can create a beautiful bowl of noodles and vegetables! Your bowl is your canvas and you will impress yourself with how beautiful you can make it!
What kind of noodles should we use?
There are many vegan options you can use for noodles. I've listed some of them below:
Ramen: these noodles are distinctively chewy and slightly yellow in colour. They're long and stringy and perfect to slurp up! Be sure to find a vegan option as some can be made from egg.
udon: these are definitely vegan and made from flour and some salt. They're kneaded and shaped into noodles. Some varieties of udon noodles are thicker and make for a very filling meal.
soba: these are made from buckwheat and have a bit of a grainier texture. If you're looking to change up your noodles, this is a definite one to try!
chow mein: there's not a huge difference between these and ramen. Ramen may be a bit more slippery than chow mein noodles. They're also more yellow in colour due to being made from eggs.
vermicelli: These are often used in pad Thai. They're made from rice and are stickier and chewier. These also cook fast as you don't have to put them in a pot of boiling water to heat for a few minutes but rather just into a bowl of hot water and should soften within 3 minutes. Be careful overcooking these, though, as they can go from firm to mush VERY fast.
Storage Instructions
I was chuckling because I'd be hard pressed to say there will be any leftovers after this meal! Always be sure to keep your leftovers in an air tight container and put it in the fridge for 2-3 days. I usually warm it up in the microwave but you can also warm it up on the stove in a pot.
I wouldn't recommend freezing your noodles as they would would be mushy when thawed out.
Anima Mundi Herbals
I used Golden Sun Milk powder from Anima Mundi Herbals.
This company is founded by Adriana Ayales. She is such a wealth of information and has made it her soul purpose in life to educate and help people find their true potential and live as healthy as they can.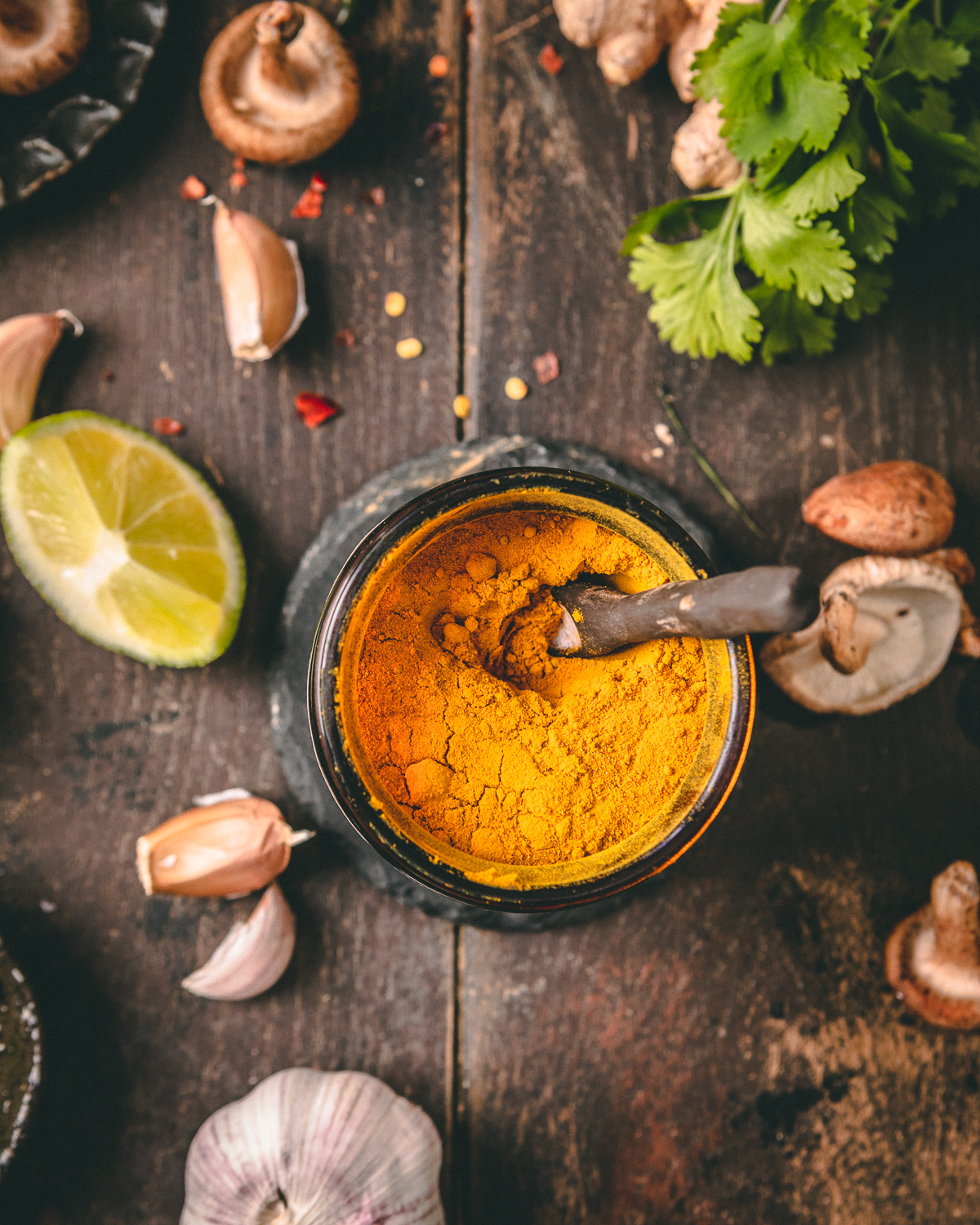 If you take a look at their website, you'll be lost with the endless amount of magical potions and elixirs they have to offer. You'll want to get one of each item! When I get their items I know it's as pure as it can be and I know with full confidence it will help me with my health! If you do go to their site, please use my link code to receive 15 percent off!
Easy and Creamy Golden Milk Ramen Noodle Curry with Tofu
Enjoy this delicious ramen noodle curry with tofu featuring Golden Sun Milk from Anima Mundi Herbals
Print
Pin
Rate
Ingredients
Vegetables
1/2

cup

red pepper

thinly sliced

1/2

cup

shiitake mushrooms

cremeni is fine, thinly sliced

1/2

cup

zucchini

sliced into thin circles
Tofu ingredients
1

package

tofu

extra firm, pressed to remove water

4

tbsp

corn starch

1

tsp

onion powder

1

tsp

garlic powder

1/2

tsp

salt

optional

1

tbsp

soy sauce

or aminos

1

tbsp

sweet red chili sauce
Sauce ingredients
2

tbsp

sesame seed oil*

3

shallots

or purple onions, diced

1

tsp

curry powder

optional

1

tbsp

fresh ginger

minced

1

can

coconut cream

I used whipped coconut cream

4

cups

ramen noodles

alternatively I used 3 squares from the package

1/2

tsp

Golden Sun Milk

From Anima Mundi herbals

2

tbsp

soy sauce

1

tbsp

lime juice

fresh

2

tbsp

sweet red chili sauce

1

tsp

onion powder

1

cup

vegetable stock
Instructions
Preparation of Tofu
Wrap tofu two times around with paper towels

Preheat the oven to 350F and prepare a baking tray

Place your wrapped tofu on a cutting board or a large plate. Balance a heavy pot on top of it to squeeze the extra liquid into the paper towels wrapped around the tofu. Alternatively you can place it in your tofu press.

After 20-30 minutes, remove tofu from paper towels and cut into desired cube size.

Place all your ingredients for the tofu, excluding the soy sauce and red chili sauce, in a big ziplock bag or a deep bowl. Toss to coat

Spread your tofu cubes on the prepared baking tray

Combine soy sauce and red chili sauce in a small bowl. Using a brush, dip it into a bowl and brush your tofu evenly with this sauce mix

Bake for 25 minutes. I remove the tofu half way in baking and flip it to make sure the sides are evenly cooked.

Remove from oven and set aside
Preparation for Curry
Boil water accordingly to ramen noodle instructions and then proceed to cook them and set aside.

Heat a deep pan to low medium heat and add your oil to coat the bottom

Add your shallots, ginger and garlic and let it pan fry for a few minutes

Add the remainder of your spice, excluding vegetable stock and coconut cream.

Let everything mix well and add your vegetables. Cover and cook until they've softened – about 5 minutes

Remove cover and add your coconut cream and let is soften. Mix well. Add your vegetable broth. Bring to a boil and then back down to a simmer.

Add in your tofu and then your ramen noodles.

Coat the mane noodles and mix well. you're done! All you need to do is taste for salt or any other flavours and garnish.
Notes
*olive oil could work. I love the taste of sesame seed oil in cooking so I prefer to use that. 
Nutrition
Calories:
2089
kcal
|
Carbohydrates:
235
g
|
Protein:
54
g
|
Fat:
108
g
|
Saturated Fat:
64
g
|
Polyunsaturated Fat:
13
g
|
Monounsaturated Fat:
28
g
|
Sodium:
8152
mg
|
Potassium:
1364
mg
|
Fiber:
14
g
|
Sugar:
11
g
|
Vitamin A:
1034
IU
|
Vitamin C:
44
mg
|
Calcium:
299
mg
|
Iron:
19
mg
© sculptedkitchen.com. All content and images are protected by copyright. Please share this recipe using the share buttons provided. Do not screenshot or republish the recipe or content in full. instead, include a link to this post for the recipe.