Say hello to your new favourite hummus flavour! It's sugar, gluten and dairy free! If using pumpkin puree from a can, it'll take you less than 20 minutes to create this delicious recipe!
Pumpkin, you say? In hummus!?
Yes! If you haven't tried it before, you definitely should give this recipe a go!
Using pumpkin puree is a perfect way to sweeten your hummus!
Don't use the bigger ones used to decorate porches though. They're quite stringy and watery and not suitable for baking!
What do you need to make this hummus?
Here are the simple ingredients needed to this delicious hummus:
Chickpeas – If you have a bit of time before hand, try soaking chickpeas overnight and cooking them in a pot. You can add things like garlic, onion, vegetable stock and salt to make the chickpeas incredibly flavourful. Sometimes when you're pressed for time though, opening a can of chickpeas is such a lifesaver!
Puree- the easiest way to make sure you have some puree on hand is to roast a sugar/pie pumpkin and freeze leftovers you won't need. Using frozen (and letting it warm up to room temperature), canned or fresh are all perfectly fine for this recipe! Just make sure if you are using a canned product that the first and only ingredient is pumpkin!
Tahini – tahini is so rich with flavours. It's full of protein, good fats and calcium. Buy one that is rich and creamy. Stir the jar well before using to make you get the tahini that has clumped on the bottom of the jar as well.
Olive oil – Some people add it and some people leave it. I love adding a tablespoon. It adds richness and creates more of a smoother texture.
Lemon juice – this adds a freshness that you can't get with any other ingredient! I add the juice of an entire lemon.
Garlic – I get excited sometimes and add a lot of fresh garlic which ends up making it have a strong garlic taste. One clove (medium) goes a long way but this is all up to your taste buds.
Salt – usually 3/4 tsp is enough. I use pink salt.
Paprika: I love adding a bit of heat to my dishes.
Onion powder – this is optional but I love the depth it provides to the dish
How do you make this recipe?
All of these ingredients come together nicely in a food processor. The extra step is to roast your pumpkin to make puree. So an oven and a blender will be the extra equipment you need. And perhaps a stove top with a small pot if you decide to soften your chickpeas! It all depends on your time and investment you want to make.
Cooking your chickpeas
As mentioned above, another extra step you may want to consider to make this recipe as luxurious and creamy as possible is to cook them in baking soda.
If you're using dry garbanzo beans, you can add baking soda to the last 10 minutes of cooking. If you're using chickpeas straight from the can, add your baking soda with water in a pot and bring to a simmer for 10 minutes. This is really all the time you need to soften your chickpeas.
Another tip is to soak your dry garbanzo beans with baking soda overnight with your water. This may also soften and speed up the cooking process.
If I have time, I'll remove the outer shells of the chickpeas. It's a bit tedious but the result will be creamier.
Putting it all together
Once you have all the ingredients measured and ready, place them into your food processor and blend. I leave the it blending for two minutes. I check on it with a spatula to test the amount of thickness and its consistency. You can taste it as well to see if it needs more lemon, salt or olive oil.
Dressing up a hummus reminds me of my days of decorating smoothie bowls! Almost the same thing! Garnish with some seeds, herbs, more spices and crackers! It'll be such a wonderful way to invite people to sample it!
What can I use for garnishings?
I love how versatile this recipe is! It can act as a dip but can also be a meal! it's very filling and nourishing. Garnish your bowl with:
pita chips
pomegranate seeds
pumpkin seeds (you can make your own or buy it from the store)
red chili flakes
spicy toasted chickpeas
chopped green onions, chives, parsley or dill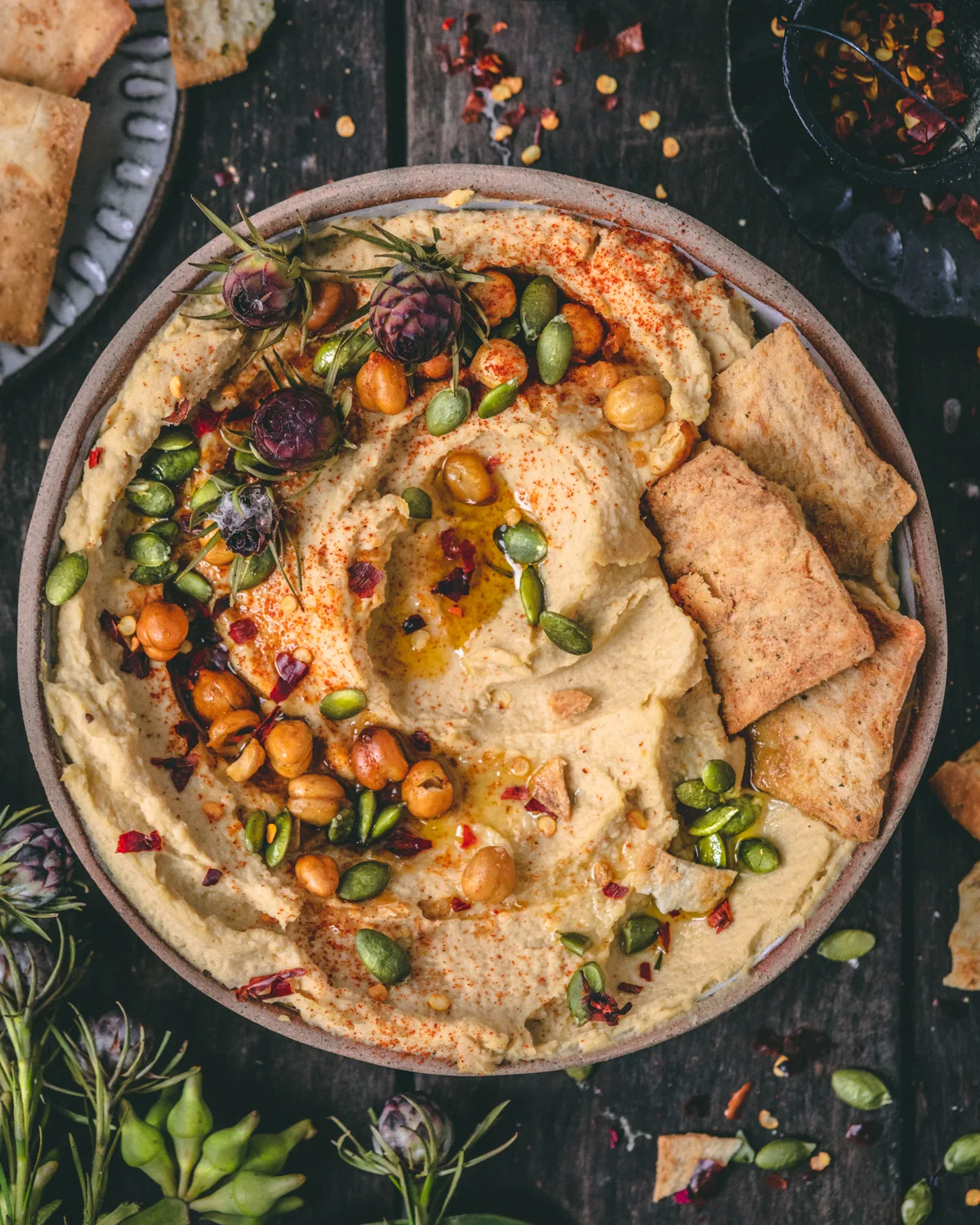 Can I use something else as substitute to pumpkin?
Yes! There are so many options! You can use:
sweet potatoes
butternut squash
cauliflower (this I haven't tried!)
beets
avocado
What can I serve this with?
I've eaten this with baked potatoes and pita chips. Other delicious ways to enjoy this can be:
pretzels
vegetables like raw carrots, cucumbers or celeries
on toast (add an avocado to make an incredible toast!)
How long will it last?
I find hummus doesn't stay fresh for longer than 3 days in the fridge. Be sure to scrape leftovers into a seal proof container. I haven't frozen it before but if eaten within 2 months it should be able to retain its taste if brought to room temperature.
Is hummus healthy?
Packed with nutrients, this recipe is definitely healthy! Chickpeas and tahini both have fibre and protein.
In addition, this recipe includes iron, folate, phosphorus and B vitamins, all of which are important for vegetarians and vegans, as they may not get enough from their diet.
Hummus is naturally gluten-, dairy- and nut-free, which makes it an excellent choice for people with particular intolerances or food allergies. If you're sensitive to FODMAPs or have a sensitivity to sesame seed then this should be avoided!
Looking for more inspiration?
Try this decadent chocolate chip pumpkin cake
Did you try this recipe? I hope you loved it and if you can please leave a review! I would appreciate it so much!
Pumpkin Hummus
A spin on the classic hummus with the addition of pumpkin!
Print
Pin
Rate
Equipment
food processor

blender

needed to puree your pumpkin if not using a can

small pot

if cooking chickpeas

Oven

for baking pumpkin or using stove top for chickpeas
Ingredients
1

can

chickpeas

15 ounces if using fresh

1/2

tsp

baking soda

1/4

cup

pumpkin puree

fresh or canned

1

tbsp

extra virgin olive oil

1

lemon

juiced

1

tsp

salt

2

cloves

garlic

small

1/2

tsp

smoked paprika

1/4

cup

tahini

look for a creamy one

1/2

tsp

onion powder
Instructions
in a pot, place chickpeas and baking soda. Cover with water. Simmer for 10 minutes.

drain and try to remove as much as the chickpea shells, if time permits otherwise leave it and let it cool down

Gather and measure all your other ingredients

in a food processor, add all the ingredients

let it blend for 2 minute until creamy. Check for consistency and texture. Add: olive oil, lemon, or salt if needed to add more flavour or add water to make the hummus thinner

Garnish with spiced chickpeas, pumpkin seeds, chili flakes and olive oil.
Roasting pumpkin
Half a sugar pumpkin and scoop out all the seeds

Roast in the oven for 40 minutes at 400F

When cooled, scoop out all the flesh and place into blender

blend on high for 20 seconds. Measure out 1/4 for your hummus and either freeze or refrigerate the rest
Notes
Please read the notes for trouble shooting and being successful with your hummus! 
Nutrition
Calories:
91
kcal
|
Carbohydrates:
5
g
|
Protein:
2
g
|
Fat:
8
g
|
Saturated Fat:
1
g
|
Polyunsaturated Fat:
3
g
|
Monounsaturated Fat:
4
g
|
Sodium:
484
mg
|
Potassium:
102
mg
|
Fiber:
1
g
|
Sugar:
1
g
|
Vitamin A:
1682
IU
|
Vitamin C:
11
mg
|
Calcium:
25
mg
|
Iron:
1
mg
© sculptedkitchen.com. All content and images are protected by copyright. Please share this recipe using the share buttons provided. Do not screenshot or republish the recipe or content in full. instead, include a link to this post for the recipe.