The combination of warming spices, pumpkin and chocolate make this recipe such a hit in autumn time when the cooler weather hits!
THIS is THE cake you need to make to celebrate autumn in all its glory! It's soft, decadent and very addictive (so I was told!). The layers tasted like a delicious soft chocolate-chip cookie mixed with a hint of pumpkin pie!
Pumpkin, you say? In a cake!?
Yes! If you haven't tried it before, you definitely should give this recipe a go!
Using pumpkin puree is a perfect way to sweeten batter! It also is a creamy way to moisturize the batter and is a fat substitute (for butter and oil)! For cooking without eggs and milk, this is baking GOLD!
Don't use the bigger ones used to decorate porches though. They're quite stringy and watery and not suitable for baking!
What makes this cake SO irresistible?
Don't take it from me! I've made this so many times for friends, strangers and family alike and it's such a winner!
Most of the things are pantry ingredients – you can swap the vegan butter for coconut oil
It's easy to make and comes together in one bowl
It's the best of both words – a cake and a pie!
It's dairy free and 100 percent vegan
The spice adds such a beautiful flavour hit that you will just want to keep eating it all day.
You can add the butter cream and make this cake next level luscious!
The pumpkin flavour is not overwhelming! You can add 1/4 cup less but honestly it made the cake so moist and I couldn't tell it was there!
What are some of the benefits of this special gourd?
Zinc and Protein
Zinc and protein are important part of your meals. It's a great way to recover after a workout as well!
Vitamin A and C
Both of these minerals are important for skin health. Providing your skin with the proper nutrients, like from a serving of pumpkin, can help your skin retain its moisture. It can also reduce inflammation and has antioxidant properties.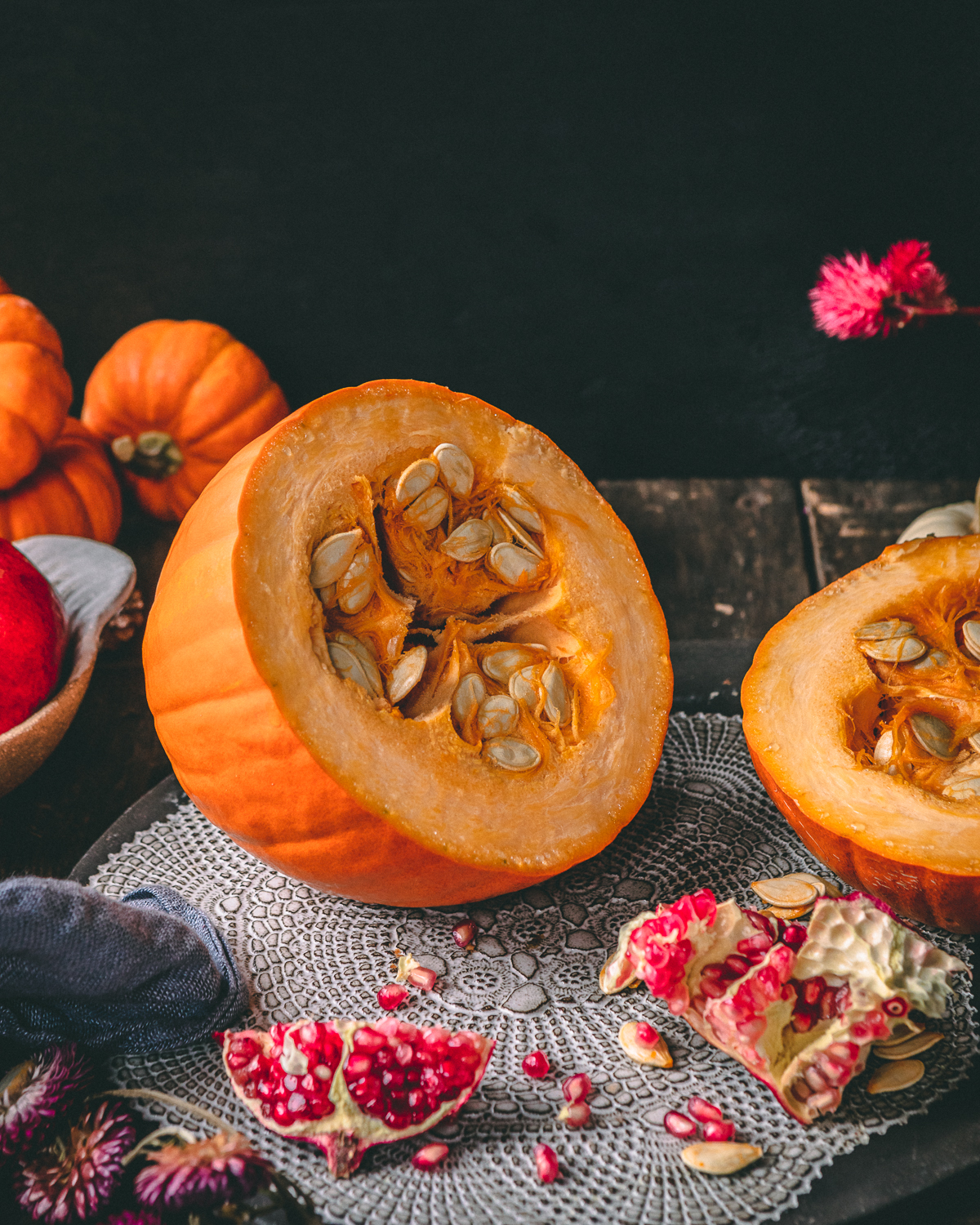 What are some fun ways to use it in cooking?
You can use pumpkins for:
tarts
muffins
cookies
pancakes
curries
Can I use any pumpkin?
Pumpkins grow abundantly here in Ontario during October and early November. I pick the smaller ones to bake with. They're called pie or sugar pumpkins. Generally the smaller the are (aside from the small decorative ones) the better they are for baking.
What about canned pumpkin?
Sometimes cutting and baking/air frying your gourd can be a pain especially if you're low on time or they're not in season.
Using a can is not a problem but make sure it's the only ingredient in there. There could be some added sugar or syrups mixed in. There is also the possibility of other gourds being mixed in.
Preparing your pumpkin
To prepare it, I cut it in half and remove the seeds. The seeds can be washed and roasted in the oven with a bit of olive oil, garlic powder and salt. My eldest daughter does this and it's such a rich source of iron and really tasty too!
I bake it at 400F for about an hour. I check on it from time to time to make sure it's not burning. Take it out and let it rest. When ready to blend it, scoop out the flesh with a spoon. It should come out smoothly and easily. Place the pulp in the blender and blend it on high. There it is! You're ready to start baking with this goodness.
How do you make this magical cake?
Start with preheating the oven to 350F.

Prepare two 7 inch round springfoam pans with either baking spray or parchment paper or both. I line the bottom of my pans with parchment paper and spray the sides for quick and easy removal.
Next, prepare your "buttermilk" by adding your lemon to your milk. Leave it aside.
In a large mixing bowl, cream your butter and sugar together. Add in your buttermilk. Next add your dry ingredients and finish with your flour.
Mix it all in gradually until combined. Finally add in your chips and mix.
Remove your cakes carefully and place them on a wire rack. After they've cooled slightly completely remove them from the pan and let them cool completely. Wrap them carefully and place in fridge to cool.
Chocolate buttercream
The buttercream is optional but it makes the cake so silky smooth and DECADENT!! All you need to do is whip up coconut cream, vegan butter, icing sugar and melted chocolate in a medium bowl until lush and thick.
One important part of making this buttercream is to stick it into the fridge for at least 30 minutes to firm it up!
Coffee or tea anyone?
This cake would go deliciously with a warm beverage!
I hope you try this. It was enjoyed by so many. The cake is a perfect blend of everything! You could even enjoy it without the frosting.
Thank you so much for visiting my blog! I would love if you leave a review if you made this cake or show me a photo on instagram! Thank you! I appreciate you so much!
Trouble Shooting
Here are some tips to making a successful cake:
A cold cake! Before frosting and trimming, consider placing the cake in the fridge. When the cake is room temperature there is a risk of breaking your cake as your slide the knife through. Also when applying your spatula with frosting across the sides and top, some of the cake make catch and break with the frosting if it's not cooled!
Levelling: having same that, take the time to make sure your cakes are levelled properly. It's better to slice off a little bit at a time and take your time with it.
Parchment paper: Ensure your cake comes out clean with parchment paper and spray. I also use a spring foam pan which allows the spring to separate the cake from the pan. I love it! It makes baking so easy!
Looking for more inspiration with pumpkin?
Try this creamy pumpkin hummus recipe
Chocolate Chip Pumpkin Cake with Chocolate Buttercream
A delicious way to celebrate autumn! Enjoy a full cup of pumpkin in this incredible cake.
Print
Pin
Rate
Equipment
1 Oven

1 blender

1 mixing bowl

2 7 inch spring foam pans
Ingredients
Chocolate Pumpkin Cake
1

cup

pumpkin puree

fresh

1 1/4

cup

coconut sugar

or granulated sugar

1 1/2

cup

chocolate chips

2

tsp

baking powder

1

tsp

baking soda

2

tsp

ground cinnamon

1/2

tsp

ground nutmeg

1/2

tsp

ground cloves

1/4

tsp

ground ginger

1/4

tsp

salt

1

cup

butter

vegan

3/4

cup

oat milk

or any plant based milk

1

tbsp

lemon juice

fresh

3/4

cup

hazelnut meal

2 1/4

cup

flour

all purpose
Chocolate buttercream
1

can

coconut cream

solid part of the can

1/2

cup

butter

vegan

1 1/4

cup

icing sugar

4

oz

dark chocolate

melted in a double boiler
Instructions
Chocolate Pumpkin Cake
If using a fresh pumpkin – cut it in half, scoop out the seeds, and bake for 40 minutes at 400F. Blend when cooled. Clean out your blender. Keep your oven on and prepare your cake pans.

Add in your lemon juice to the milk. Let it curdle for a few minutes

in a medium bowl, combine your vegan butter, mylk, pumpkin puree and sugar

In a separate (or can be put into the same bowl if desired) medium bowl add your dry ingredients. Mix well.

Add your dry ingredients to your wet ingredients and mix well. Fold in your chocolate chips

Pour into your prepared cake pans. I usually go up to 3/4 up but anywhere between 1/2 to 3/4 up is fine.

Cook for 40-45 minutes depending on how think your layers are and how big your cake pans are. I always check the centre.

Enjoy the most moist softest and delicious cake!!!!
Chocolate Buttercream
Blend all your ingredients in one bowl and blend until smooth and creamy

Keep in the fridge for at least 30 minutes or until it's thickened
Nutrition
Calories:
501
kcal
|
Carbohydrates:
67
g
|
Protein:
7
g
|
Fat:
25
g
|
Saturated Fat:
15
g
|
Trans Fat:
1
g
|
Cholesterol:
8
mg
|
Sodium:
340
mg
|
Potassium:
289
mg
|
Fiber:
4
g
|
Sugar:
37
g
|
Vitamin A:
3263
IU
|
Vitamin C:
3
mg
|
Calcium:
129
mg
|
Iron:
4
mg
© sculptedkitchen.com. All content and images are protected by copyright. Please share this recipe using the share buttons provided. Do not screenshot or republish the recipe or content in full. instead, include a link to this post for the recipe.