Perfect for school lunches or breakfast, this delicious chocolate chip banana zucchini bread doesn't taste like it has any zucchini in it! Moist, easy and filled with chocolate chips this is your new go to banana bread recipe!
If you're like me we have extra zucchini growing in our backyard. And if you're not growing them, you'll see them in plentiful at the farmers market. What are you waiting for? Let's grab a zucchini and let's go!
I've given this to my family and my friends and, no, you cannot taste the zucchini. The shredded zucchini gives it some moistness and also helps you eat your veggies and enjoy something sweet. Win!!
Why zucchini?
Zucchini is wonderful in baking because it adds texture and moistness into your baking! It's especially helpful when we don't cook with eggs. We can get the moistness that we lose from dairy-free baking added in with the help of zucchini!

Zucchini has a mild and bland flavour that takes on whatever flavour you want to pair it with. You can pair it very easily with chocolate or cinnamon!
Zucchini itself is low in fat, calories and sugar. Did you know that zucchini is a super food?! It is packed with amazing nutrients like Vitamins A and C, fibre, potassium and folate.
How do I bake with zucchini?
All you need is a grater, a bowl and some paper towels to soak up the extra water it creates. Choose a grater with bigger holes as the smaller ones will just seep out water and create a mess with your zucchini.
Speaking of water, be sure to take a few paper towel sheets to absorb the extra water that seeps out from shredding. The extra water will create a soggier loaf which won't correct itself even if you over bake it.
What size loaf pan should I use?
I've baked this in mini loaf pans as well as a standard 9×5 loaf pan. Both work well. I've yet to have any explosions or over spills of banana bread batter in my pans. Filling your loaf pans to 1/2 or up to 3/4 full will prevent any spills in the oven.
I also make muffins with banana bread batter. You can also make 20-24 muffins and reduce the timing to about 20 minutes in the oven.
Can I make this gluten-free?
Absolutely. I haven't tried making it with almond flour or coconut flour but you can try 1:1 gluten free flour from a brand that you enjoy.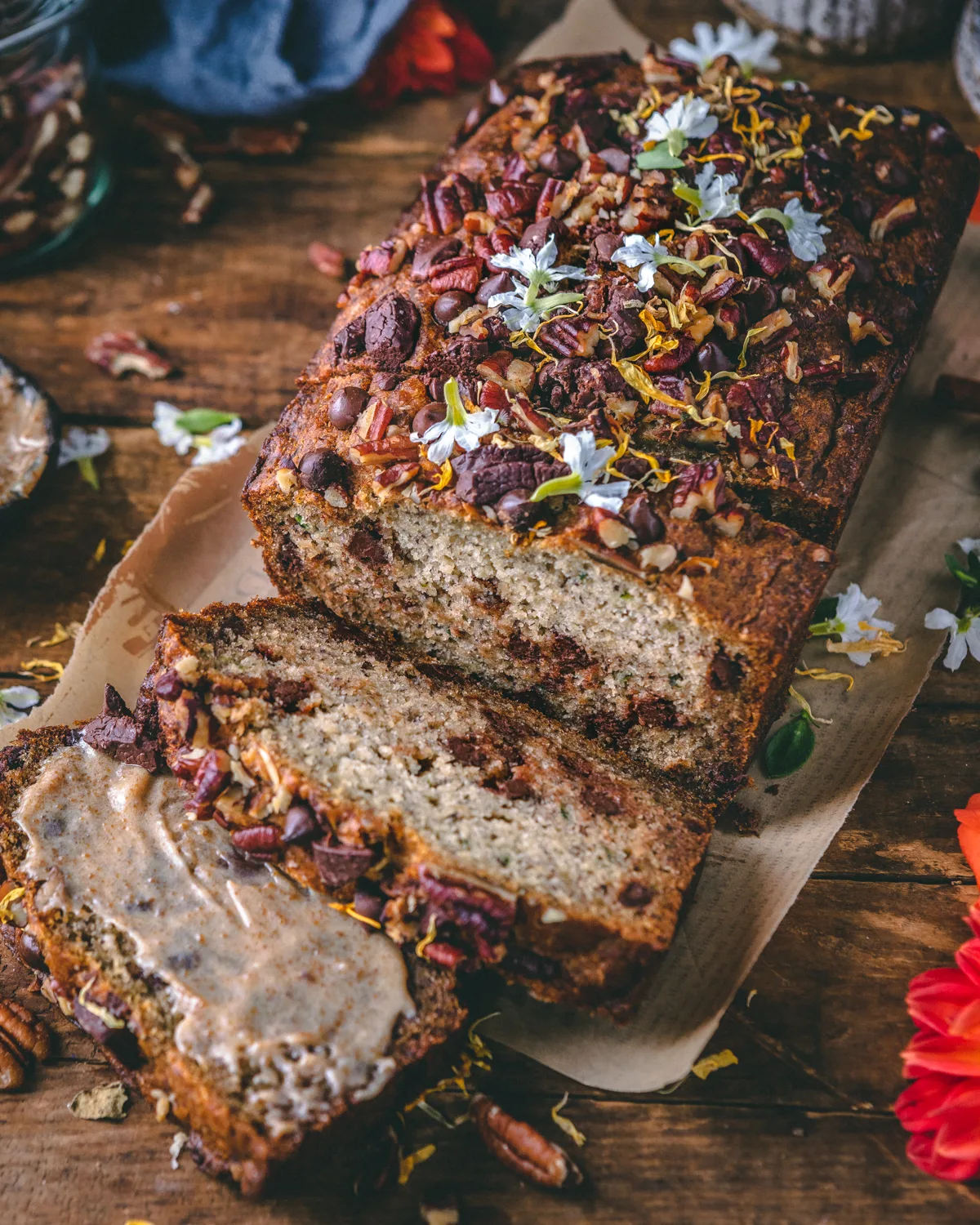 I'm ready! How do I make this delicious loaf?
This recipe calls for:
Zucchini: if you have a box grater, don't use the tiniest hole but the one that's the largest or second largest. I also like seeing bits of zucchini in my loaf. Don't bother peeling the skin, it's not necessary! You can also use a yellow zucchini if that's all you find. There's no difference between the two colours!
Coconut oil: I use this in lieu of eggs. It adds a crispiness to the bread yet a moistness to the inside of the bread. I haven't used olive oil but if you do let me know below!
Milk: I use dairy free milk. Any will do! To create "buttermilk" I add a tbsp of lemon juice and let it stand for a few minutes
Spices: I use cinnamon and a dash of salt. You could also add vanilla in lieu of cinnamon.
Chocolate chips: I use dairy free chocolate chips. You can use any chocolate here – if you have a bar, you can chop it up using a knife and add this to the batter if you don't have chocolate chips.
Coconut sugar – I only used 1/2 cup of coconut sugar. You could use brown sugar or white sugar if you wish. I didn't make this loaf overly sweet. I've seen upwards of 2 cups of sugar used for 2 cups of flour and I think that's too much. I
Flour: I used white flour. You can sub gluten free flours and let me know how it turned out in the comments below!
Nuts: Walnuts or pecans would pair so beautifully with this loaf! There's no need to toast and you can either add it to your batter or sprinkle it on top!
Do I have to add nuts?
Nuts definitely adds bulk and crunch to this loaf. I don't usually add nuts to my batter and instead sprinkle it on top. That way if someone doesn't enjoy nuts they can pick it off.
You can add walnuts or pecans to this loaf easily. They're both very savoury nuts and will go really sweet with the sweetness of the loaf.
How do I store my bread?
After it's cooled down, you can slice your loaf into pieces and store in the fridge for up to 5 days. It won't last very long but if you have to freeze it'll freeze well in a tight air proof container for 3 months. Bring it back to room temperature by leaving it on the counter for a few hours or in the microwave in 20 second increments until desired temperature is reached.
Trouble shooting
Baking can hit some bumps in the road, here are some things that can help with baking this loaf:
My loaf didn't rise: This is sometimes due to the freshness of my baking soda and baking powder. It may be time to replace them. Check here to see how to test your baking soda and baking powder.
Loaves also don't rise if they're way too dense. Make sure the excess water has been squeezed out of your zucchini before adding it to the batter.
My loaf is too soggy: It seems pretty simple but baking your bread can be tricky as my 65 minutes may not be the same as your 65 minutes. Using convection baking may help. Also adding an extra 5-10 minutes may do the trick. Sometimes the loaf looks like it's ready only to be raw in the middle. Check with a toothpick to see if it comes out clean (minus the chocolate that melts on the toothpick).
A little extra something-something to go on top
You can indulge a little bit more by creating cinnamon "butter" (1/2 tsp of cinnamon mixed with melted vegan butter) to spread on top. Alternatively you can add peanut butter or any nut butter to the slice! For a breakfast option you can add fresh banana coins or fig slices!
If you like your loaf sweet(er), you can sprinkle some turbinado sugar on top of your batter before or after baking!
I hope you enjoy this recipe! It would make my day if you make it and share a photo with me on social media! If you loved the recipe please be sure to comment below! Thank you so much! I appreciate you.
Looking for more delicious banana bread recipes? Try:
Zucchini Banana Bread with Chocolate Chips
A moist and delicious banana bread recipe with zucchini!
Print
Pin
Rate
Equipment
Oven

stand alone mixer or mixing bowl

electric mixer or stand alone mixer
Ingredients
3

bananas

ripe

1/2

cup

almond milk

or any milk will do

1

tbsp

lemon juice

fresh

1/2

cup

coconut oil

room temperature/soft

1/2

cup

granulated sugar

2

tbsp

vegan butter

room temperature

1 1/2

cup

all purpose flour

1/2

cup

oat flour

pinch

salt

1

tsp

baking soda

2

tsp

baking powder

1

cup

zucchini

shredded, excess moisture taken out using paper towel

1

cup

chocolate chips
Instructions
Grease a loaf pan and leave aside

Combine your plant based milk with lemon juice. Leave aside for a few minutes to curdle.

in a medium mixing bowl, combine all your dry ingredients and mix. Leave aside

In a large mixing bowl, combine your wet ingredients including your plant based milk that has been curdled and shreded zucchini.

Slowly add your flour mixture to your large bowl with wet ingredients. Mix to combine

Fold in your chocolate chips

Slowly pour the batter into your prepared loaf pan

Cook for 65 minutes or until the middle is set
Notes
it's completely up to you but I like to take out the extra moisture that shredded zucchini has using a paper towel and patting it lightly
Be sure to check if your baking soda and baking powder are fresh. Sometimes if these are stale it can result in a loaf that doesn't have it's typical rise.
Nutrition
Calories:
302
kcal
|
Carbohydrates:
36
g
|
Protein:
4
g
|
Fat:
17
g
|
Saturated Fat:
12
g
|
Trans Fat:
1
g
|
Cholesterol:
3
mg
|
Sodium:
225
mg
|
Potassium:
210
mg
|
Fiber:
2
g
|
Sugar:
12
g
|
Vitamin A:
179
IU
|
Vitamin C:
6
mg
|
Calcium:
74
mg
|
Iron:
1
mg
© sculptedkitchen.com. All content and images are protected by copyright. Please share this recipe using the share buttons provided. Do not screenshot or republish the recipe or content in full. instead, include a link to this post for the recipe.