The most INCREDIBLE Carrot Cake EVER
If you've been searching for the most incredibly moist carrot cake recipe that happens to be VEGAN – look no further! This is an easy and deliciously moist cake that I think you'll LOVE! Everyone that has had a piece of this absolutely loved it! The tang of the blood orange marmalade and the simple frosting with the fluffy cake were a match made in heaven.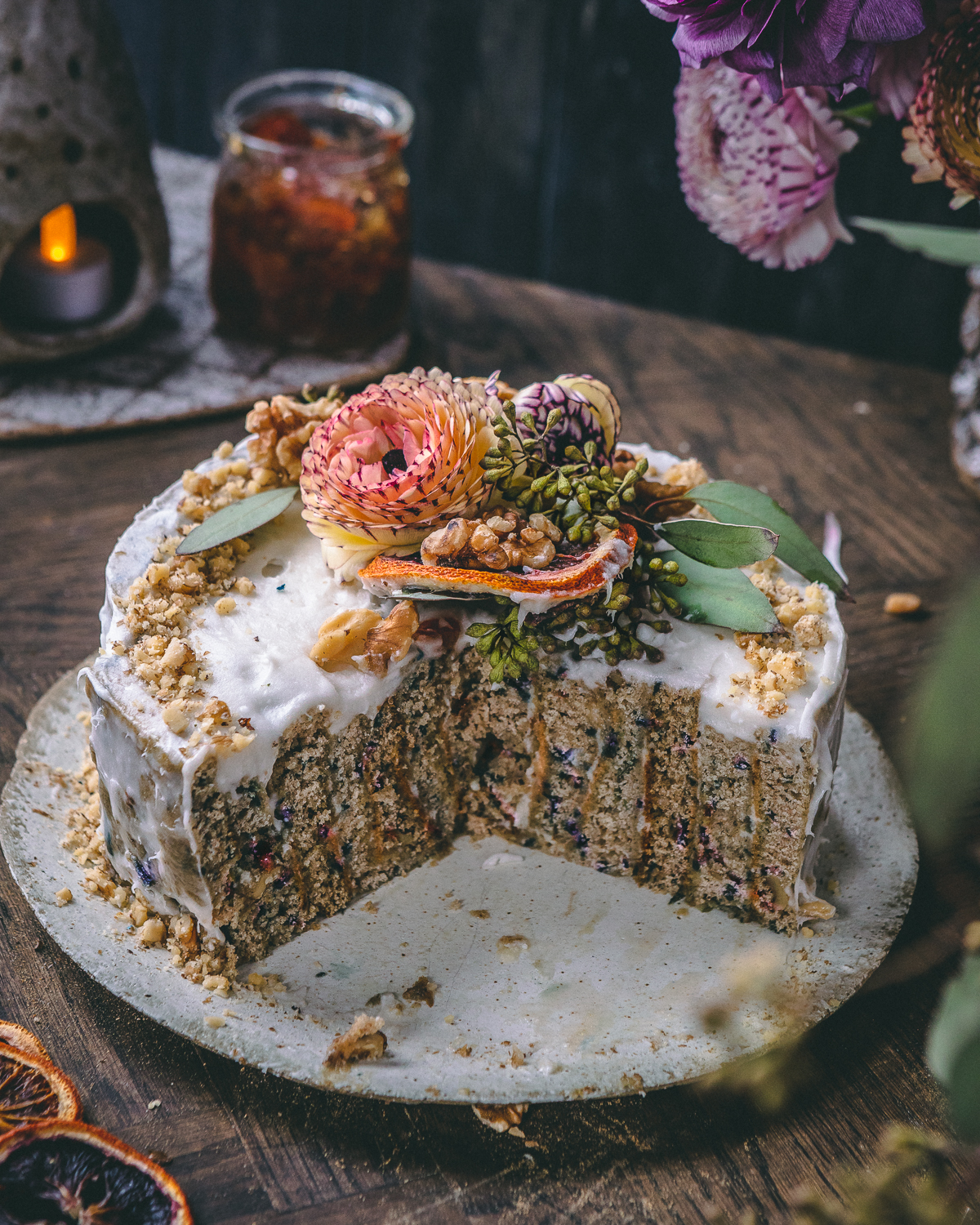 Making the Carrot cake
This post is sponsored by Anima Mundi Herbals and the secret ingredient is cordyceps for the cake batter and mangosteen hibiscus for the blood orange cake. 
If you're interested in making your own magic with her products, use my code for 15 percent off.
Flour
This cake was used with all purpose flour. It's a goal of mine to switch to gluten free baking. For now you could switch 1:1 gluten free flour!

Sugar
You could also substitute coconut sugar rather than use granulated sugar. I personally make the cake with white sugar as the coconut sugar tends to make the batter look quite brown. If you haven't got an issue with the look of the actual cake then using coconut sugar is great!
Apple Sauce
This is a great substitution in lieu of eggs. You could also use crushed pineapples. I don't believe it would take away from the recipe and in fact, probably heighten the flavour a little bit! I have not tried this recipe with crushed pineapple as I tend to have apple sauce on hand at home.
Flax Egg
This is such a simple and healthy swap! All you need is 1 tbsp of flax meal and mix it with 2.5 tablespoons of water. Leave it on the counter and wait a few minutes until it resembles a globby egg like mixture.
Coconut Oil
I love using coconut oil. I use a neutral oil that doesn't smell quite coconut-y. You could also use a vegan butter that you like. I've used both and I like the taste and the result that I got with coconut oil tasted better.
Purple Carrot
You could use conventional orange carrots but if you know me, I LOVE blues and purples. It really added a nice pop of colour in the cake.
If you can find purple carrots in your local grocery store, you'll need enough for two cups. This is approximately 3 medium orange. I don't use the orange middle of the purple carrot to ensure a uniform purple carrot look. Save the rest of the carrots for your salads or snacks!
An important step is to remember to blot the shredded carrots with a paper towel. I absorb as much of the moisture in it so it doesn't make add to the moisture of the cake. Doing this can result in a cake that falls apart after you bake it due to excessive moisture. The second reason I do it is so that the purple liquid from freshly shredded carrots doesn't leak the purple colour when I fold it in.
Making and assembling
You can make this recipe in regular cake pans and have two layers to frost. I chose to make a sheet pan cake and have vertical layers rather than the traditional horizontal layers.
Once cooled, I cut the cake into three long layers. To create thin layer that are easier to roll, spread a thin layer of batter (about half an inch) on a prepared baking tray. Once baked let it cool. Carefully slice your cake into three long layers and spread a layer of frosting, followed by jam.
Take your second layer and continue wrapping by binding the layer and growing the cake outwards.
Substitutes for walnuts
If you're not a fan of walnuts, you could use a few other alternatives:
raisins (great for a nut free option!)
pecans (best substitute for walnuts)
hazelnuts
almonds
nut free options: pumpkin seeds, sunflower seeds, chia seeds and flax seeds
you can always leave them out
Blood orange jam

I loved marmalade growing up I didn't realize just how much sugar there is in commercial jam on the shelves! Making compote at home is SO easy. It's really satisfying to know you can create your own compote at home from scratch and monitor the amount of sugar that goes in!
This particular compote recipe took a bit of prep time and will require a day and half to prep. Everyone that ate this cake loved it so much so I do insist on not skipping this step! But if you're in a pinch, you could always buy a store bought one marmalade!
I peeled the oranges and took much of the pith out. The pith is bitter and the more you take off the less bitter it will. I let the oranges soak in a medium pot full of water (~1 L).

The next day I added sugar (I put 2 1/2 cups in this recipe but I've done with 2 cups and 1.5 cups, it's all about how bitter your jam tastes. You will need to sweeten it with sugar, stevia, maple sugar or rice malt syrup) and brought it to a gentle boil. I reduced the heat immediately to a simmer, covered it and let it reduce until the remaining mixture is like a jam like consistency (about two hours).
Leave it aside to cool. Make your frosting! 🙂
Frosting the cake
You can use vegan butter and icing sugar. To make vegan frosting, I use 3 cups of icing sugar to 1 cup of icing sugar.
Alternatively, you could vegan cream cheese too! Or if you want more of a tropical flavour you could use coconut whipping cream. The ratio will change as coconut cream is more liquidy. You may have to put it in the fridge to stiffen before frosting your cake.
Sheet cake
If you'd rather not roll the layers of the cake to make a cake, you could just keep it as is as a sheet cake. You would not need to cut the cake into three long pieces. I have done this before and just covered the sheet cake with icing and with the blood orange jam on top. I then cut then into tiny squares. This would be great to entertain many people and everyone would get a square of the cake rather than a large slice.
Tips to make this recipe a success
I used parchment paper to line the baking tray for an easy and stress free transfer of layers
As nerdy as this sounds, I use a ruler to measure out three exact strips
A thin layer of cake batter is needed for the success of being able to roll your cake like a Swiss roll. I find the amount of batter is needed for a large baking tray. If you have an 18″x26″ that would be ideal. I don't have a full size baking tray and my layers were too thick and broke
I've heard you should roll it right after it comes from baking but I find it may break easily. I cool it completely before I roll it.
The icing and jam will be messy. It's okay! It'll taste amazing.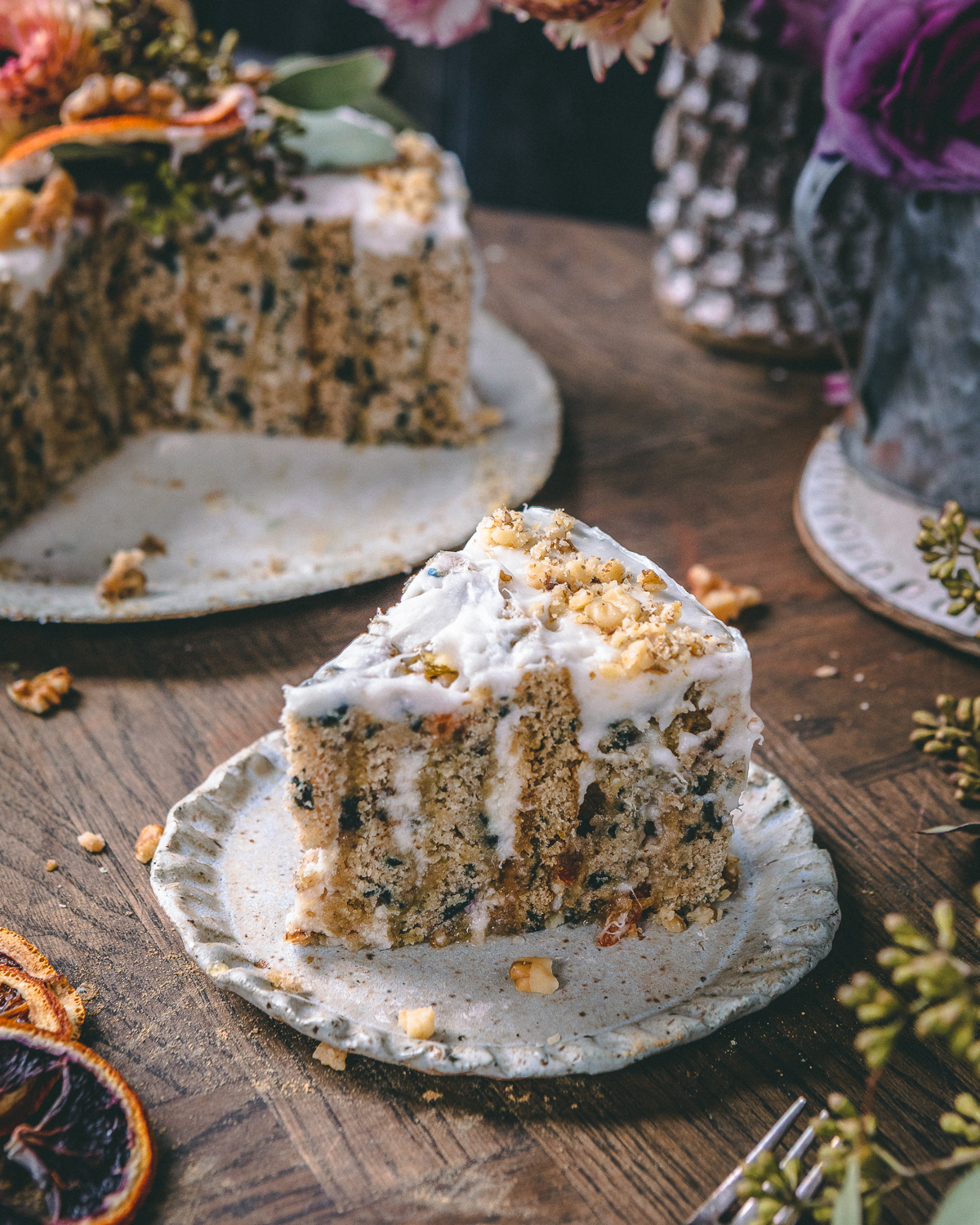 How do we store it?
Carrot cake gets so delicious the longer it lasts. It's such a moist and delicious cake that it stayed soft for a few days. With any fresh fruits and vegetables in a baked cake you'll have to consume it within 5 days. You could freeze left overs as well for a tasty treat on a later date.
Let me know on social media if you've tried this cake!
Craving more cake recipes? Try these:
Easy and Delicious Purple Carrot Cake with Blood Orange Jam
A delicious combination of citrus and carrot with this delicious cake
Print
Pin
Rate
Ingredients
Carrot cake
2

1/2

flour

all purpose flour or 1:1 gluten free

1

tsp

Cordyceps

Anima Mundi Herbals (optional)

1

tsp

cinnamon powder

2

tsp

baking soda

2

tsp

baking powder

1 1/2

cup

sugar

coconut sugar

1/2

cup

apple sauce

3/4

cup

plant based milk

1

tsp

apple cider vinegar

1

flax egg

1/3

cup

coconut oil

2

medium carrots

grated

1/4

cup

chopped walnuts

1/4

cup

blood orange marmalade jam

home made or store bought
Blood orange jam
4

blood oranges

2 1/2

cups

sugar

1

tsp

mangosteen hibiscus

Anima Mundi Herbals

1

L

water
Butter cream Frosting
1

cup

vegan butter

3

cups

icing sugar
Instructions
Blood Orange Jam
Place cut oranges in a large pot and cover it with the water and leave overnight.

The next day, bring this pot to a boil and add in your sugar.

Let it boil for an hour or until the mixture becomes thick

Let it cool and place in the fridge overnight
Carrot Cake
Preheat your oven to 350F. Grease 2 or 3  8 x 12 inch baking pan and set aside.

Shred your carrots and keep aside

Make buttermilk by mixing apple cider vinegar with your milk

Create your flax egg and keep aside.

Combine your dry ingredients together in a bowl

Whip your coconut oil, sugar, apple sauce together in a separate bowl

Add in flax egg and buttermilk and mix well with your wet ingredients bowl

Slowly add in your flour mixture and mix.

Fold in your grated carrots and walnuts

Divide batter between 2-3 cake pans.

Bake for 45-55 minutes depending on thickness of cake. Check with a toothpick

Let it cool completely and place into the fridge overnight or for two hours. This always frosting to be smooth and not break the cake.
Buttercream frosting
Add in your ingredients for this and beat until fluffy. You may need to add more sugar or a tsp of plant based milk in order for it to be the consistency you desire.
Assembly
Remove your chilled cakes and place them on a table

Smear a thin layer of your blood orange marmalade on to each  layer

Follow this with a layer of butter cream

Carefully stack all layers on your cake plate/stand

Finally, cover the entire cake with frosting

Decorate with your carrot ribbons, dried blood orange slices, and flowers

Serve immediately. Left overs can be put in the fridge up to 5 days.
Nutrition
Calories:
562
kcal
|
Carbohydrates:
99
g
|
Protein:
1
g
|
Fat:
20
g
|
Saturated Fat:
8
g
|
Trans Fat:
1
g
|
Sodium:
381
mg
|
Potassium:
41
mg
|
Fiber:
1
g
|
Sugar:
97
g
|
Vitamin A:
733
IU
|
Vitamin C:
2
mg
|
Calcium:
51
mg
|
Iron:
1
mg
© sculptedkitchen.com. All content and images are protected by copyright. Please share this recipe using the share buttons provided. Do not screenshot or republish the recipe or content in full. instead, include a link to this post for the recipe.